CANTORES OLICANAE IN WORLD PREMIÈRE!
Twenty one members of Cantores Olicanae joined with 11 other invited choirs from across the route of the Tour de France in a concert on Saturday 28th June 2014, in York Minster. The performance was the première of "Song Cycle – vive la vélorution!" by Alexander L'Estrange and was one of the official Yorkshire Festival 2014's events for Le Grand Départ.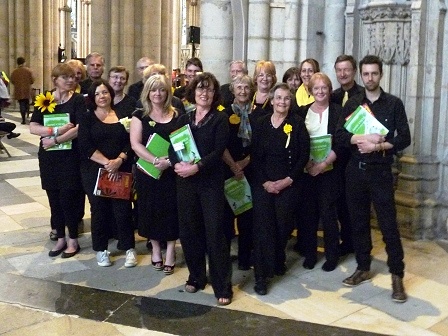 The theme of the work reflected different aspects of cycling, from the often amusing initial objections in the late 19th century and the unexpected role it played in the emancipation of women, to the glorious sensation of cycling through the countryside and the benefits of cycling to both body and mind. It also included two re-workings of existing songs: 'Daisy, Daisy' and 'A True Love of Mine' which featured new lyrics to the tune of 'Scarborough Fair'. The work was a combination of different musical styles: pastiche Victorian music hall and Gilbert & Sullivan, folk, minimalism, barbershop, musical theatre and jazz. The performance was supported by the professional jazz quintet "Call Me Al'" and was conducted and directed by Stephen Williams from the York Chapter House Choir.
Cantores' singers were delighted to have been asked to participate and thoroughly enjoyed the whole experience, not just of singing in a massed choir of over 350 voices, nor of the opportunity to perform in the magnificent Minster, but also of being involved in the first ever performance of a new work.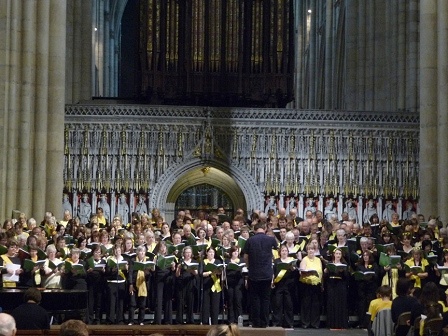 Click here for a 19 minutes video of rehearsals and extracts from the performance.