Welcome to the home of Cantores Olicanae.
We are a mixed voice choir, established in the 1970s in Ilkley, West Yorkshire. Each year the choir performs four or five concerts, of major choral works, under the expert guidance of a professional conductor, usually with invited soloists and with either keyboard/organ or orchestral accompaniment.
Our concert season begins in the autumn, with a concert in November and is then followed by our traditional family Carol Concert in December. In the Spring, we hold another concert before finishing off the season in June with a programme which often includes lighter music.
We welcome amateur singers from all surrounding areas. Rehearsals are held on Tuesday evenings at St Margaret's Church, Queen's Road, Ilkley. If you're interested in joining us, please click here for more details.

---
Le Grand Départ
CANTORES OLICANAE IN WORLD PREMIÈRE!
Twenty one members of Cantores Olicanae joined with 11 other invited choirs from across the route of the Tour de France in a concert on Saturday 28th June 2014, in York Minster. The performance was the première of "Song Cycle – vive la vélorution!" by Alexander L'Estrange and was one of the official Yorkshire Festival 2014's events for Le Grand Départ.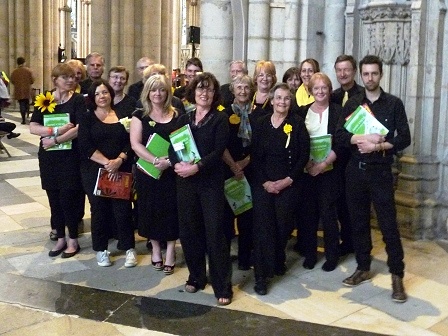 The theme of the work reflected different aspects of cycling, from the often amusing initial objections in the late 19th century and the unexpected role it played in the emancipation of women, to the glorious sensation of cycling through the countryside and the benefits of cycling to both body and mind. It also included two re-workings of existing songs: 'Daisy, Daisy' and 'A True Love of Mine' which featured new lyrics to the tune of 'Scarborough Fair'. The work was a combination of different musical styles: pastiche Victorian music hall and Gilbert & Sullivan, folk, minimalism, barbershop, musical theatre and jazz. The performance was supported by the professional jazz quintet "Call Me Al'" and was conducted and directed by Stephen Williams from the York Chapter House Choir.
Cantores' singers were delighted to have been asked to participate and thoroughly enjoyed the whole experience, not just of singing in a massed choir of over 350 voices, nor of the opportunity to perform in the magnificent Minster, but also of being involved in the first ever performance of a new work.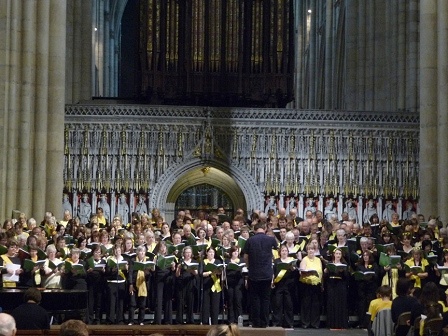 Click here for a 19 minutes video of rehearsals and extracts from the performance.

---
Musical Director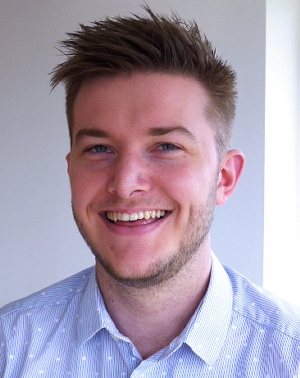 Rory Johnston
Rory is a conductor, composer, tenor and pianist from Bradford-on-Avon near Bath. Rory read Music at the University of Manchester, graduating in 2016 with a First Class degree. He is staying on at the University to work towards a MusM Masters degree in Instrumental Composition with Camden Reeves.
During his time at as an undergraduate, Rory was heavily involved with the Music Society, conducting both the choirs (University Chorus, Cosmo Singers and Ad Solem) and the orchestras (Symphony Orchestra, Chamber Orchestra, Wind Orchestra and the New Music Ensemble) for his second and third years, culminating in a performance of Arvo Pärt's Adam's Lament for Choir and String Orchestra. In his final year he was appointed the Musical Director of the University's Chamber Choir, Ad Solem, enjoying a successful year of concerts and recordings.
As a pianist and tenor, Rory has performed in many capacities. A treble in the Bath Abbey Choir from 2003-2008, his last two as Head Chorister, he re-joined the choir as a Tenor in 2011, going on to sing in live broadcasts on BBC Radio 3 and 4, as well as on the choirs CD recordings. Rory studied piano with internationally renowned harpsichordist Sophie Yates from 2003-2013, with whom he studied for his dipABRSM piano diploma. Under her tutelage Rory twice participated in piano masterclasses with Joanna MacGregor, one of which lead to a performance of Debussy on one of Rachmaninov's pianos held at the Holburne Museum in Bath. Whilst at University, Rory studied piano for two years with Richard Casey, before focussing on conducting under the mentorship of Justin Doyle and Mark Heron.
Currently, Rory is the Musical Director of Cantores Olicanae, The Brixi Singers, as well as continuing to support the University Music Society as a choral conductor whilst completing his Masters Degree. He is also the founder and Musical Director of the Manchester Renaissance Ensemble, a choir and pool of instrumentalists focussed on the performance of early music.
---
Musical Director  2012-2015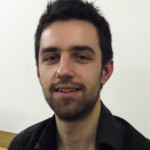 Jonathan Brigg 
Jonathan was born in Bradford and honed his musical skills working as an accompanist with local operatic societies. He went on to study music at the University of Manchester, where he gained a first class degree in music and was awarded AHRC funding for a master's degree in composition, for which he gained a distinction. Jon recently completed a PhD in Composition at the University of York, which focussed on techniques for merging contemporary jazz and classical music. He has a strong interest in American music and is currently working on transcriptions of Charles Ives's piano music with musicologist William Brooks.
Jon enjoys a busy schedule as a conductor, composer and pianist. He was selected to partake in the European Composers' Professional Development Scheme, giving him the opportunity to compose for the Nieuw Ensemble in Amsterdam, and was shortlisted in the Britten Sinfonia Opus 2013 composer's competition. He is one of four composers chosen for the London Philharmonic Orchestra's Leverhulme Young Composer Scheme 2014/15, leading up to the premier of a new work on June 10th 2015, which will be conducted by Finnish composer and conductor Magnus Lindberg.
Jon frequently works with some of the most exciting young jazz musicians in the UK. His recent collaboration with Threads Orchestra, 'Ranch', was described by 'All About Jazz' as 'enigmatic and defiant of categorisation'. His jazz group, 'Stoop Quintet' recently performed at The Vortex jazz club in London and have been selected to play on the Queen Elizabeth Hall Freestage in the London Jazz Festival this coming November. He also collaborates with the experimental vocal duo 'Tryst', and has performed with them in (Old) York, New York and Dublin.
As a conductor, Jon works mainly with choirs but has also conducted a number of orchestral works and specialises in the performance of contemporary music, recently conducting John Adam's Chamber Symphony and Per Norgard's 'Voyage into the Golden Screen' at the University of York. He was conducting scholar with Huddersfield Choral Society and has recently been invited back to the Choral to lead rehearsals.

---
Accompanist
Robert Sudall
Born in 1984 and hailing from West Yorkshire, UK, Robert studied the organ at the Royal Northern College of Music with Darius Battiwalla, where he graduated in 2006. Excelling on both classical and theatre organ, Robert has performed extensively throughout the UK on both instruments, including London, Manchester, County Durham and Wales. He has also performed in Indianapolis and San Francisco in the USA. Through his active involvement with the theatre organ, Robert has won numerous competitions on the instrument. These include the British Young Theatre Organist of the Year Competition (1996) and the Junior and Intermediate sections of the Young Theatre Organist competition (1998 and 2001 respectively), an event held annually by the American Theatre Organ Society (ATOS). Robert has also been very fortunate to receive scholarships from the ATOS in order to assist with his musical studies, as well as having been awarded the Ian Sutherland Award in 2003. Robert has been fortunate to perform in master classes given by such distinguished organists as David Briggs, Dame Gillian Weir and Olivier Latry and has also had lessons from Jacques van Oortmerssen in Amsterdam, where he studied the organ music of J.S. Bach. Since completing his degree, Robert has been working extensively as a freelance musician, regularly performing gigs and concerts across the UK. He has his own jazz trio, in which he plays piano, and uses this group as a vehicle for experimenting with new styles and sounds, whilst also performing more traditional jazz standards. Robert is inspired by the music of the Middle East ? particularly Sufi music ? and tries to incorporate these elements with jazz to form the basis of his own compositions. Most recently, Robert has been commissioned to compose the scores for various short international films, which has given him opportunity to develop further his passion for orchestration.

---
Orchestras
Yorkshire Chamber Ensemble
The Yorkshire Chamber Ensemble was formed in 1987 and enjoys long standing links with many choral societies, performing most of the great repertoire for this genre. The Ensemble brings together some of the region's finest musicians and forms the nucleus of the larger National Festival Orchestra, which has gained an outstanding reputation through it's acclaimed performances as the resident orchestra of the International Gilbert and Sullivan Festival in Buxton and BBC radio and television broadcasts and the recording of Edward German's 'Tom Jones' on the Naxos label.

---
History
– Very Beginnings
Ernest Bradbury. It's all his fault……
Many in Ilkley will remember Ernest as the Music Critic of the Yorkshire Post and contributor to the New Groves' Dictionary, but he was also a Lay Reader at St Margaret's at the time that Peter Jamieson (Founder and first conductor of the choir) was appointed Organist and Choirmaster. Ernest had mentioned that there had been a history of musical events at the church to celebrate St Cecilia, the Patron Saint of Music. Peter responded by presenting a number of small-scale recitals incorporated into Evensong on a Sunday afternoon.
– Early years
Then the small-scale got a little larger and on 20th November 1977 the first concert proper took place. An orchestra of local musicians was assembled, the church choir was supplemented by a number of singers from Ilkley and Bradford and Cantores Olicanae was up and performing. In fact, the name did not appear on concert material until the following year, when the success of the occasion encouraged us to perform another four concerts.
1979 saw the centenary of the church, and the first of the "large" concerts. It was planned that the celebrations would begin with a performance of Messiah in September 1979 and end with a performance of The Creation. The choir invited singers from the larger choral societies in Bradford, Leeds and Ilkley to come along and sing and a number of these decided to stay. Thus the choir found itself experienced singers, who enjoyed singing on a smaller scale, but were up to the challenge of singing 6 or 7 concerts in a season.
There were early practical issues. There was panic at the first Messiah performance when it dawned on the organisers that extra lighting would be required for a choir of 80 voices, if they were even to see the music (or the conductor) on a late September evening. Everything from household standard lamps to photographic lights were used. Intervals brought the need for refreshments, so that the church hall became licenced premises, and the Vicar found himself amongst the ranks of the publicans.
The photograph alongside was taken in church on the evening of Saturday 12th July 1986 and shows Peter Jamieson with two prominent English musicians, whose new works were being performed at a concert that night. In the centre is Alan Ridout, who attended for the first performance of The Spacious Firmament on High, which was repeated recently as part of our 30th anniversary concert. On the right is Francis Jackson, former Organist of York Minster, and, as he celebrated his 90th birthday this October, the grand old man of English Church music. Dr Jackson has written a number of works for St Margaret's Church Choir.
– Development and Orchestra
Ambition grew, so that when concerts were arranged to raise money for the re-building of the church's fine Hill organ, it was decided to invite a local celebrity to sing with us. Elizabeth Harwood, still in magnificent voice, sang Handel and, especially memorably, Vaughan Williams' Benedicite with choir and orchestra, the first of a number of notable soloists to perform with Cantores Olicanae.
The orchestra was growing along with the choir, and played an important part in the programming. A network of professional musicians and students was established, and despite the occasional hiccough (often with the brass!), a very good and reliable sound came from the band. Its leader for a couple of seasons was Ian Belton, better known now as a founder member of the Brodsky Quartet. Cantores Olicanae associated itself with the Ilkley Young Musicians Competition, offering a concert date for one of the winners. Sometimes this was a vocalist, but more often an instrumentalist, who performed a concerto with the orchestra, which had now become the Ilkley Sinfonietta.
The choir settled down to a size of about 40 voices, ideal for the classical repertoire and modern works. The mighty works of the Romantic period were, in the main, left alone, but Brahms and Dvorak were regularly performed.
– Young Artists of Note
It has been interesting to see the development of young singers who have made early appearances at our concerts. One worthy of mention is John Daszak, the Manchester educated tenor who can be found these days in the opera houses of the world. Recent performances with John Mitchinson have kept him in a prominent position. It was odd to find him in a recent Glyndbourne performance of Weber's Euryanthe, in which 3 of the six soloists had performed with Cantores. As well as John himself (a memorable Evangelist in more than one St John Passion, as well as soloist in Messiah), there was the baritone Stephen Gadd (who also sang in Messiah in the early 90s) and Rebecca von Lipinski (who was the soprano in a delightful performance of The Creation in 2000).
– Into the New Millenium
We were fortunate in obtaining the services of James Bowman for a performance of Britten's Rejoice in the Lamb, when he delighted our contraltos by his insisting that he sat with the rest of the chorus. Clarinettist Emma Johnson and the pianist John Lenehan contributed to a delightful summer concert. Recent years have seen Cantores go from strength to strength, culminating in occasions featuring the Manchester Camerata, including a performance in 2005 of the Bach B Minor Mass. We celebrated our 30th anniversary with a special concert in November 2007, and in March 2008 Manchester Camerata again crossed the Pennines to perform the St. John Passion with us.
– Come and Sing
In 2010 we hosted a "Come and Sing" Messiah as a way of reaching out into the community, with a view to attracting new members. This was a most successful venture with over one hundred singers applying to sing. Snow caused a few problems but the performance went ahead and was thoroughly enjoyed by all who sang as well as by those who listened.
A few weeks later, sub-zero temperatures and more heavy snow forced us to cancel the Christmas carol concert. After this, it was decided to move down the hill to All Saints' Church for future carol concerts, and the following year we also moved the summer concert to St. John's Ben Rhydding.
– Wider repertoire
In November 2011 we performed Karl Jenkins' Mass for Peace, "The Armed Man", with the Yorkshire Chamber Ensemble, and soloists from St. Peter's Singers. This was a huge success with St. Margaret's Church packed to capacity. Since 2012 our repertoire has extended to include music in a lighter vein by Gershwin and Bernstein, and jazz by Duke Ellington.
We were delighted to take part in the official Yorkshire Festival of events for Le Grand Départ in July 2014. Alexander L'Estrange had been commissioned to write a choral work with a cycling theme and choirs from along the route were invited to perform it in York Minster with the Chapter House Choir under their conductor, Stephen Williams. This was a wonderful experience for all who took part.
---
Mailing List
We would love to keep you up to date on all our activities, and to give you advance notice of our concerts. Please use our Contact Form to join our mailing list